So far, words cannot really express how I feel about Cambridge. I am constantly in awe of the history that surrounds me, the precedent set by those who have studied here before me, the amazing opportunities we get on a daily basis, and the wonderful people I am meetings from every corner of the globe. I'm sorry I haven't been able to blog much, but trying to balance the academic and social sides of life in Cambridge (and still wanting to catch some sleep) has left me with even less free time than I anticipated. I'm finding that I don't mind too much, though. ;)
Here are a few things that have been catching my eye, both online and out and about.
This Greenwich village townhouse (
Domino
, via
Grey and Scout
) is pure perfection. I love the mix of classic and modern styles throughout the house.
I hosted my first (impromptu) tea party on Saturday night, and it was so much fun getting to know my new friends. I feel like I've found an amazing group, and I feel so lucky. Also, I think even the most basic groceries can be so chic here.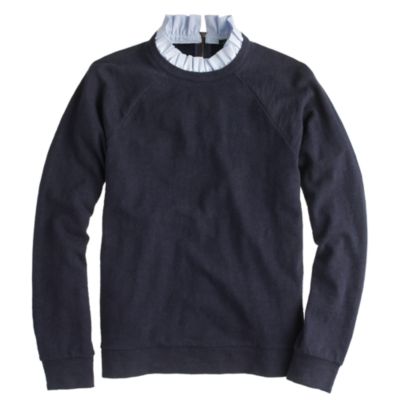 This
ruffle-collar sweatshirt
(from J. Crew, of course) is amazing. I've been going for a similar look with button-downs and pullover sweaters lately, but I love how the look is all incorporated here. So easy!
Finally, I've got a little side project going right now: a picture a day from my life as a grad student. So far I'm finding it a great way to capture little snippets of my time in Cambridge. You can find it
here
.
I hope you have a great Monday, and a great week!
xx